Back to Articles
June 11, 2013
Feeding Raw Necks they're more than just a byproduct, they're healthy & helpful!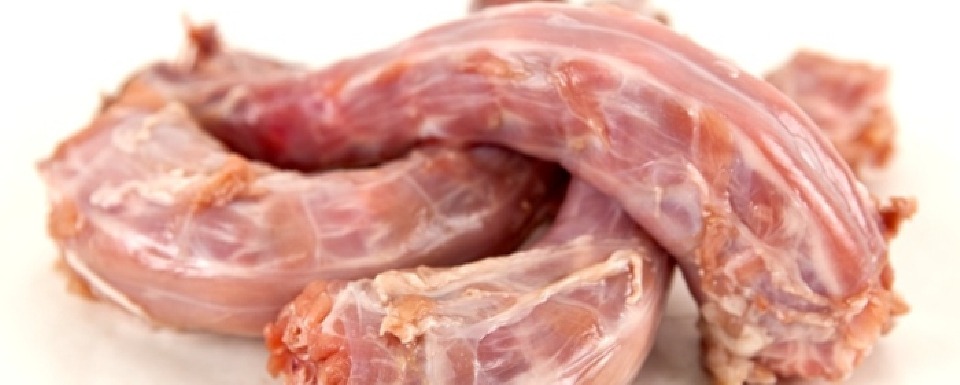 Benefits:
Benefits:
Feeding your pet a neck bone at breakfast gives them something more substantial to digest on throughout the day keeping their energy level up and steady
Necks act as a natural dental floss. When eaten, teeth run perpendicular to the cartilage and muscle of the neck, which run through the teeth flossing and massaging the animal's gums as they chew
Great source of muscle meat and calcium
Adding necks to your dog or cat's diet is not only more beneficial to them, it is also more economical then feeding mixes and blends solely. You get more bang for your buck!
How To:
When adding neck bones to your pet's diet:
Serve them at breakfast so that their systems have something more substantial to digest on throughout the day
Continue with the raw mixes at their evening feeding
Feed equal parts necks to raw mixes , simply substitute half in necks at a different feeding.
For example, if you need to feed your dog 3lbs of food a day you would feed 3 - 4 turkey necks (1.5 lbs) for breakfast and 1.5 lbs of raw mix food for dinner .
Products:
Bridger Animal Nutrition carries a variety of neck bone products !
Duck Necks-great for smaller dogs and cats
Chicken Necks-great for medium sized dogs
Turkey Necks-great for a large dog; can be cut
*NEVER FEED YOUR PETS COOKED BONES AS THE COOKING PROCESS ALLOWS THEM TO SPLINTER
More you may enjoy
March 18, 2012

Pet Food Labeling Rules
These below facts/rules may make feel a little bit like a schlep as they lead to great labeling claims!
April 14, 2015

Joint Disease in Dogs: prevention
As dogs age, many of them start to suffer from joint disease (like hip dysplasia). You may see your older dog...
June 5, 2010

Feeding Fish
Small raw fish are my favorite easily available whole prey food. They contain a wealth of nutrients as your dog eats...