Back to Articles
June 14, 2011
Stones: Diet for Calcium Oxalate ManagmentCalcium Oxalate Stone Diet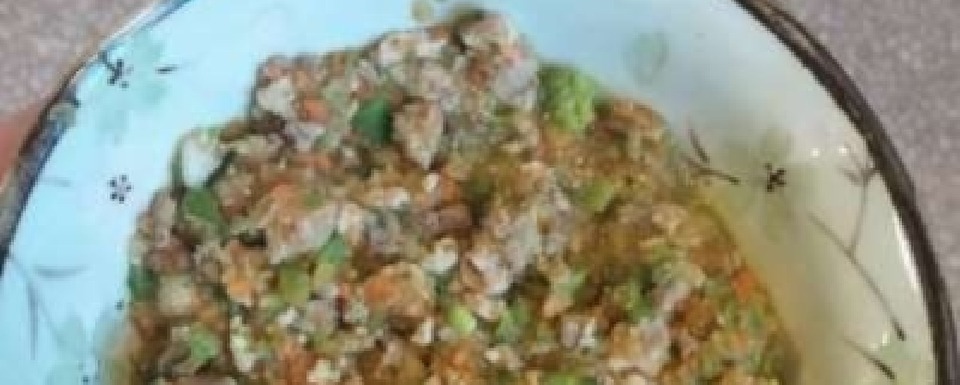 Sample Recipe
Here is a sample recipe that could be used for dogs prone to forming calcium oxalate stones. This recipe has a moderate amount of fat. Meat and eggs can be fed raw or cooked (the amount of meat is the same, but the starting weight is higher for raw foods due to having more moisture). Rice must be cooked. Vegetables should be cooked & pureed in a food processor, blender, or juicer. Measurements are by weight, not volume (except for the cooked rice, which is given in cups). Use a small kitchen or postal scale for accuracy.
1 lb (raw) or 13 ounces (cooked) 90% lean ground beef
1 lb (raw) or 13 ounces (cooked) ground turkey with 7% fat, or chicken breast with skin, or dark meat chicken with half skin removed
3 ounces canned tuna, boneless salmon, or other oily fish without bones (use fish packed in water, don't use light tuna, and look for fish with the most fat you can find as long as it's not packed in oil)
3 large eggs
2 ounces beef liver
4 ounces plain yogurt
4 ounces cottage cheese
3 cups cooked white rice
15 ounces low-oxalate vegetables (e.g., 5 ounces broccoli, 5 ounces carrots, 5 ounces peas)
2222 grams cooked (4.9 pounds, 5.25 lbs raw)
2983 calories
299 grams protein (48% dry matter, 42% of calories from protein)
97 grams fat (16% dry matter, 29% of calories from fat, 32 grams of fat per 1,000 calories)
211 grams carbohydrates (34% dry matter, 29% of calories from carbohydrates)
2.9% dietary fiber
8,887 mg omega-6 fatty acids, 1,655 mg omega-3 fatty acids (ratio 5.4:1)
Variations:
This recipe includes both poultry and beef. If you prefer to make separate batches, you can use the same amount of poultry or beef and divide the amounts of everything else in half, or double the amount of poultry or beef per batch, leaving everything else the same. Similarly, you could use yogurt in one batch and cottage cheese in another.
You can use whole milk, low-fat, or nonfat dairy products. Use lower-fat products for older dogs and those prone to pancreatitis or digestive upset. Younger, more active dogs will do better with higher-fat products.
If you are feeding canned salmon or other oily, boneless fish (not tuna), you can increase the amount of fish in the recipe to 6 ounces and decrease the number of eggs to 2, if preferred.
You can mix and match various low-oxalate vegetables as you want.
It's fine to include some fruits in the diet, such as banana, apple, and melon. Blackberries, blueberries, small oranges, and prunes are group 3 (moderate oxalate, feed in very limited amounts only), but most other fruit group 4 (low oxalate).
If you leave out any of the ingredients in the recipe, additional supplementation may be needed. For example:

If you don't feed fish, you will need to give fish oil for omega-3 fatty acids and kelp for iodine. Give an amount of fish oil that provides 100 to 150 mg EPA and DHA per 10 pounds of body weight daily for healthy dogs, up to 300 mg for dogs with cancer, kidney disease, or inflammation due to allergies, arthritis, or other causes. Do not use cod liver oil, which is high in vitamin D. See below for iodine supplementation.
If you don't feed dairy products, you should increase the amount of calcium added by about 15% and may also need to supplement with kelp for iodine (see below).
If you don't feed poultry, you'll need to provide omega-6 fatty acids from plant oils.
Omitting eggs will leave the diet short on choline with a little less fat.
Amount to feed: See below for estimated amounts to feed adult dogs. The lower amounts are for senior, overweight, and less active dogs, while the higher amounts are for younger, more active dogs. Caloric needs can vary considerably between individual dogs, so always watch your dog's weight and adjust the amount fed as needed to keep your dog lean. If you find you are feeding less than the low amount shown below, you may need to add additional supplements to make sure your dog's nutritional needs are met.
5 pounds: feed 4.5 to 6 ounces (130 to 180 grams) daily (recipe will last 12 to 17 days)
10 pounds: feed 7.8 to 11 ounces (220 to 300 grams) daily (recipe will last 7 to 10 days)
20 pounds: feed 13 to 18 ounces (370 to 500 grams) daily (recipe will last 4 to 6 days)
30 pounds: feed 17 to 24 ounces (490 to 690 grams) daily (recipe will last 3 to 4.4 days)
40 pounds: feed 22 to 30 ounces (620 to 850 grams) daily (recipe will last 2.6 to 3.6 days)
50 pounds: feed 26 to 36 ounces (740 to 1,000 grams) daily (recipe will last 2.2 to 3 days)
60 pounds: feed 30 to 41 ounces (840 to 1150 grams) daily (recipe will last 1.9 to 2.6 days)
70 pounds: feed 33 to 46 ounces (950 to 1300 grams) daily (recipe will last 1.7 to 2.3 days)
80 pounds: feed 37 to 50 ounces (1050 to 1430 grams) daily (recipe will last 1.6 to 2.1 days)
90 pounds: feed 40 to 55 ounces (1150 to 1565 grams) daily (recipe will last 1.4 to 2 days)
100 pounds: feed 44 to 50 ounces (1240 to 1700 grams) daily (recipe will last 1.3 to 1.8 days)
120 pounds: feed 50 to 69 ounces (1420 to 1940 grams) daily (recipe will last 1.1 to 1.6 days)
140 pounds: feed 56 to 77 ounces (1600 to 2180 grams) daily (recipe will last 1 to 1.4 days)
Oxalate Content of Various Foods
The Oxalosis and Hyperoxaluria Foundation publishes an up-to-date list of foods and their oxalate content. Based on research from 2008 and revised as new figures become available, this report divides foods into very high, high, medium, and low levels of oxalates according to serving size. See the
complete list
for information about additional foods, including herbs, spices, combination foods, and beverages.
Note that different sources provide differing information on oxalates. If you will be feeding a food regularly, you may want to check all the lists under
Resources
below for that food to further verify the oxalate content.
Soaking grains overnight and discarding the water, then boiling the grains (like pasta) and again discarding the water, can reduce oxalate content.
Group 1 (very high-oxalate foods) are best avoided by dogs prone to calcium oxalate stones:
Bran cereal, almonds, buckwheat flour, beets, miso (fermented soy), mixed nuts, sesame seeds, tahini (sesame paste), parsley, rhubarb, spinach, and Swiss chard. Alfalfa and quinoa are also high in oxalates (not sure which group they belong in).
Group 2 (high-oxalate) foods should also be avoided:
Nuts: cashews, hazelnuts or filberts, peanuts, peanut butter, and pecans.
Vegetables: okra, collard greens, mustard greens, fried potatoes, sweet potatoes, and canned tomato paste.
Legumes: black, white, great northern, navy, chili, and pink beans.
Soy products: textured vegetable protein, soy milk, soy burger, soy yogurt, soy nuts, and soybeans.
Fruit: figs, kiwi fruit, and dried apricots.
Grains: barley, cornmeal, cream of wheat, whole wheat flour and spaghetti, brown rice flour, and wheat bran.
Chocolate, which is toxic to dogs, is a high-oxalate food.
Group 3 foods have moderate oxalate levels. They can be fed in moderate amounts (see the
complete list
for serving sizes) as long as calcium is also given with the meal:
Nuts and seeds: pistachios and walnuts (macadamia nuts are toxic to dogs).
Vegetables: carrots, celery, green beans, boiled white potatoes without the skin, rutabaga, summer and winter squash, tomato sauce, and tomatoes. The Low Oxalate Cookbook (seeResources) shows that skinless red potatoes are considerably lower in oxalates than white or russet potatoes; all potatoes are lower in oxalates when the skin is removed.
Legumes: kidney, pinto, and adzuki beans.
Fruit: blackberries, blueberries, mandarin and other small oranges, mangos, and prunes. Note berries may be higher in oxalates, while mangos may be low.
Grains: bulgar wheat, brown rice, elbow macaroni, egg noodles, spaghetti, pasta, rye flour, oats, and oatmeal.
Group 4 (low-oxalate foods) are "green light" ingredients. They can be fed in any quantity, though they should still be combined with calcium. Foods in boldface are particularly low in oxalates:
Nuts and seeds: coconut, flax seeds, pumpkin and squash seeds, and sunflower seeds.
Vegetables: artichokes, asparagus, avocado, broccoli, Brussels sprouts, cabbage, cauliflower, corn, cucumber, garlic, green or red peppers, lettuce, mushrooms, peas, canned pumpkin, sauerkraut, canned string beans, tomato juice, canned water chestnuts, and zucchini. (Onions should never be fed to dogs).
Legumes: lima beans, black-eyed peas, garbanzo beans, lentils, and split peas. Lentils and garbanzo beans may have more oxalates. Split peas have more oxalates than regular peas.
Fruit: apples, fresh apricots, bananas, cantaloupe, cherries, cranberries, grapefruit, lemons,lychee, melons of all types, nectarines, olives, oranges, papayas, passion fruit, peaches, pears,pineapple, plums, raspberries, strawberries, tangerines, and watermelon. (Neither grapes nor raisins should ever be fed to dogs).
Grains: white bread, whole wheat bread, cornbread, hominy (corn grits), oat bran, rice noodles, semolina, white rice, corn and white flour tortillas, and wild rice.
Fats: all fats and oils, including butter.
Fish: all fish and seafood (shellfish).
Dairy: all, including cheese, cottage cheese, cream, eggs, yogurt, ice cream, and sour cream.
Meat: all meat and poultry, including organ meats, luncheon meats, sausage, and bacon.
Sweeteners: all natural sweeteners, including sugar (not recommended for dogs) and honey.
More you may enjoy
June 2, 2018

A Low Cu recipe for Liver health
This may be in replacement of/ in rotation with/ or a compliment to -a low copper kibble
June 18, 2000

"Easy Button" Raw formulation
Dr. JulieAnn Lee's 30-year-old fail safe "easy button" for raw feedersAlthough there are a million theories, preferences and should & shouldn't lists on raw...
June 20, 2009

Pie Chart
A Raw diet is made up of components.The components of a diet are 1) Muscle meats 2) Bone 3) Organs 4)Vegie/fruit/herbs If...