Back to Articles
Ring bone in Horses
promising hope for a treatment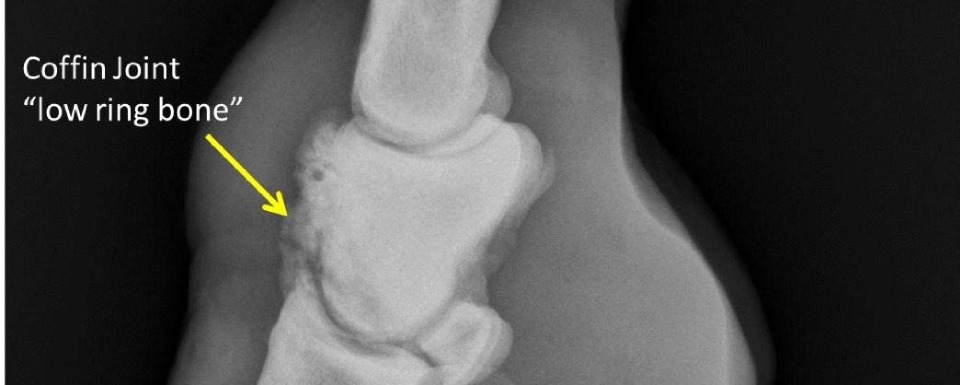 Thanks to advancements in treatment, this incurable condition is no longer automatically career-ending.
Say your saddle horse has just been diagnosed with ringbone, before you automatically consign him to pasture-ornament status, consider the related advances in diagnosis, treatment, and shoeing.
Many horses today can continue to perform athletically with this arthritic condition.
Take a look at the record of Travis Tryan's multiple champion roping horse, Precious Speck.
Before his death of an aneurysm this past April at age 20, "Walt" was named the Team Roping Heading Horse of the Year four times by the Professional Rodeo Cowboys Association and the American Quarter Horse Association. Three of those titles came after 2004, when Walt developed ringbone in the pastern joint of his right front leg. Tryan earned more than $1 million on the circuit in 2009, much of it aboard Walt.
The Tryans veterinarian, Gregg Veneklasen, DVM, and farrier Eric Thomas, helped Walt continue his roping career by carefully managing his ringbone.
Veneklasen fused the joint, and Thomas used special shoes and paid close attention to the angle of the foot.
So, ringbone is not the end all be all lit once was. Consult our vet and your farrier to work on a plan together.
More you may enjoy
June 14, 2015

MATH: As Fed to Dry Matter (DM) Calculation
It's important to make sure you're comparing apples to apples when looking at the guaranteed analysis (GA) of different forms of...
April 30, 2021

Blanketing the Wet, Chilled Horse
It was brought to our attention by a thoughtful, animal loving customer of ours that a wet horse can indeed be...
February 14, 2021

Horse Blanketing
Now that winter has finally hit Montana, the question raises: Does my horse need a blanket?